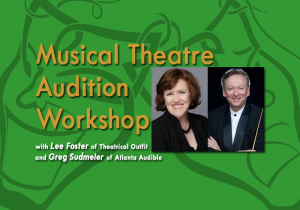 Auditioning for musical theatre can be daunting.  Take the fear out of the process by signing up for this two-step class taught by Lee Foster, Managing Director of Theatrical Outfit and Greg Sudmeier, music director extraordinaire and principal at Atlanta Audible.  The first week of class students will take two hours to explore what preparation is necessary to audition for a musical including aspects of acting and music preparation.  The discussion will include appropriate attitudes for auditioning and techniques for getting yourself remembered as the production team casts the show.  The second week, students will actually experience an audition process, in a safe space, with a production team and pianist.  Tips to improve your process will be specialized for each student.  Learn how this process works or improve your auditioning game!
Participants should attend both sessions:
Friday, September 22, 10am-Noon.
Friday, September 29, 10am-Noon.
Dahlberg Hall Theatre
FREE to dues-paying members of the GSU Players
$10 (cash only) for all others.

This workshop is limited to 20 students. Those certain they can attend both sessions should sign up on the sheet found outside Dahlberg Hall theatre.