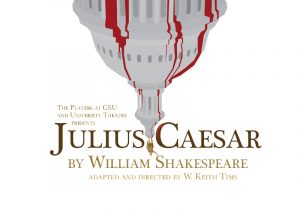 Click here to BUY TICKETS ONLINE!
William Shakespeare's take on one of the most famous assassinations in history is brought into the 21st century on the GSU Stage. Set in Washington, DC, the wildly popular Caesar is a threat to democracy, so a band of senators, led by Caesar's friend Brutus, plot his death. But can the conspirators foresee the consequences of their violence in a society that is politically fractured and blasted by the media? GSU's production is adapted and directed by faculty member W. Keith Tims.
Julius Caesar by William Shakespeare
November 2-4, 8pm; November 5, 3pm.
November 9-11, 8pm; November 12, 3pm.
Dahlberg Hall Theatre
Presented in conjunction with the School of Film, Media & Theatre. Paid for in part by Student Activity Fees.