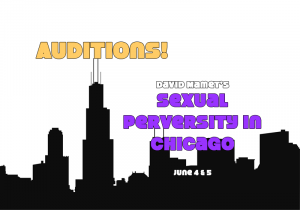 Announcing AUDITIONS for
David Mamet's
Sexual Perversity in Chicago
Mon, June 4 and Tue, June 5 – 5pm-8pm
Callbacks Wednesday, June 6, 5pm
Dahlberg Hall Theatre
Theatre Majors should prepare a 2-minute, contemporary comic monologue. All others may do a cold reading. Sign up for a time slot on the sheet found outside Dahlberg Hall Theatre.
Rehearsals start Monday June 11.
Show dates: July 19, 20, 21 at 8pm, July 22 at 3pm
This show contains Adult Content!
About the Play: One of the first plays written by Pulitzer Prize-winning author David Mamet, Sexual Perversity in Chicago explores four young singles in 1976 who can't seem to find  fulfilling relationships in a climate of sex, jealousy, and desperation. Mamet's play is both a hilarious comedy and an indictment of toxic masculinity and sexual objectification. 2 men, 2 women.