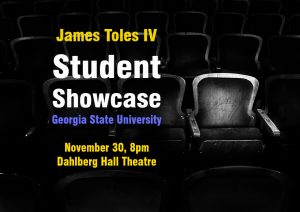 Join us for our annual James Toles IV Student Showcase, featuring original short plays written by GSU students, acted by GSU student actors, and directed by GSU student directors. Produced under the guidance of Dr. Shirlene Holmes, the Student Showcase gives the stage to new talent and new voices.
The Student Showcase plays on Friday, Nov. 30th, at 8pm.
Dahlberg Hall Theatre, 30 Courtland Street.
Free show!
Please join us after the Showcase for a celebration of Dr. Shirlene Holmes' career at GSU!